Tuturials
Intro Series: https://m.youtube.com/watch?v=m49z0weonog
Casing: https://m.youtube.com/watch?v=JhPxrHwLFuc
Casing, also using programmatically openSCAD: https://m.youtube.com/watch?v=JhPxrHwLFuc
Recommended introduction: https://www.youtube.com/watch?v=gbNg3mzm84s&list=PL7eiW2bt21YU6QEbly78kUgQCNEiDUwSH
Draft Bench
https://m.youtube.com/watch?v=1iZNhJrm6lk
https://m.youtube.com/watch?v=-ivzKZm_W7g
https://m.youtube.com/watch?v=kmXnDcIqyjY
Search
View menu -> Views ->Selection view
Deutsch: Ansicht -> Paneele -> Auswahlansicht
Brainfucksafe
Generally use the simple options of the part workbench.
Transformations
Rotate around more than one axis:
Edit -> Placement
Checkbox "incremental steps"
Scale, also non-uniformly (squash)
Draft Workbench
Clone
"Scale"
Hide original object
Sketching
Sketcher -> Create Sketch
Fully constrain sketch!
Fully close lines for rotation objects
Reference other constraints with formular: Sketch001.Constraints.myradius
Revolve
Use Part workbench
Solution for solid 180 revolving?
Workaround: Part Workbench -> Part -> Create Solid
Pad
Use Part-Design workbench
Text
-> Draft
Select working plane, e.g. xy
Text to form
Font directories (Ubuntu)

/usr/share/fonts
~/.local/share/fonts
Examples:

16.04: /usr/share/fonts/truetype/ubuntu-font-family/Ubuntu-B.ttf
18.04: /usr/share/fonts/truetype/ubuntu/Ubuntu-B.ttf

Good Fonts

Source Sans Pro

/home/klemens/.local/share/fonts/SourceSansPro-Black.ttf

Stencil

/home/klemens/.fonts/AllertaStencil-Regular.ttf
/home/klemens/.fonts/FLAMANTE-STEN.ttf

Pad
Global variables
No direct support. Workaround:
Spreadsheet Workbench
Create new spreadsheet
Enter value in a cell
Right click cell
Alias: e.g. "wallwidth"
Now you can reference the variable anywhere via "Spreadsheet.wallwidth"
Expressions / Variables
Use reference in sketch:
Name a constraint, eg. "width"
Reference it in an other constraint with "Sketch.Constraints.width"
where "Sketch" is the name of the sketch
Placement:

<<mycube>>.Placement.Base.y
freecad wedge explained
https://www.freecadweb.org/wiki/Part_Wedge/de
The parallel faces are orientated perpenticular to the Y direction.
Wedge Settings as Cube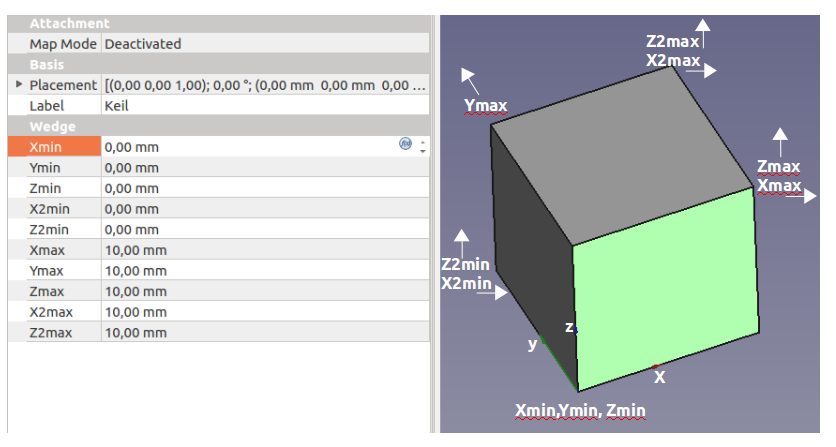 Xmin, Ymin, Zmin are the coordinates of the point in the axis cross
Xmax, Zmax are the coordinates of the top right point in the XZ plane
Ymax is the "height" in the Y axis
For a cube

X2min and Y2min need to be the same as Xmin and Ymin (0mm)
X2max and Y2max need to be the same as Xmax and Ymax (10mm)
Earlier Wedge Sketch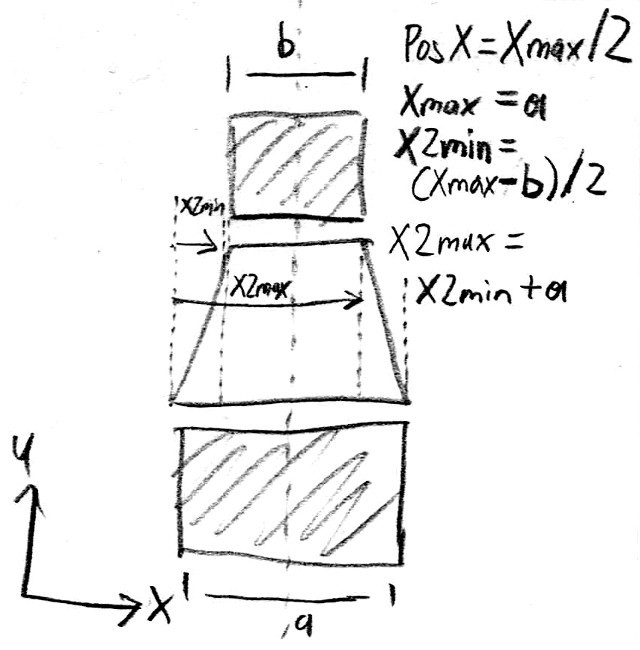 stl mesh to solid
Import stl
-> Part
Form -> create shape from mesh
Select object, export as .step
Delete or hide object
Import .step
Form -> create solid
Sketch from Image/Photo
Get image aspect ratio, e.g 4608x2592px:4608 / 2592 = 1,78
Image Workbench -> Icon "Create planar Image in 3D space"
Use formula for YSize with aspect ratio:
Scale and move to the desired position
Sketch Workbench -> Create sketch
A spoon with B-spline surface
Installation
Add Assembly2 Mod